Check out our breastfeeding interview with one of our Peer Counselors: Anita!
Happy National Breastfeeding Month!!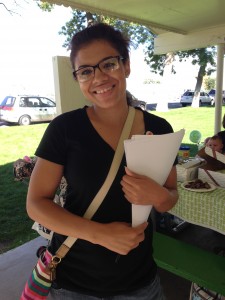 How long did you breastfeed for? My daughter and I breastfeed for a total of 18 beautiful months together.
What did you think about breastfeeding before having your baby? I thought breastfeeding was something mom and baby did no problem. I was breastfed for 18 months as well. I grew up around it being very normal in my culture and family. My thoughts were mostly positive about breastfeeding as a whole. I just didn't know how it would work out for me as a working mom. I had a few doubts and misconceptions while I was pregnant.
If you could tell mom's one tip based on your experience with breastfeeding what would it be? Enjoy your baby during those feedings. Relax and make it bonding time for you both. Forget about everything else; it will be there when your done feeding your baby. Kick your feet up, grab a water bottle and spend quality time with your baby.
What was the hardest part about breastfeeding and how did you overcome it? The hardest roadblock during my breastfeeding experience was making it through the first ten days. The engorgement, the nursing blisters, the sleepy & jaundiced baby, and not having any support or resources to help.
What has been your favorite part about breastfeeding? The best part about breastfeeding was being able to give my daughter milk that was made just for her. It's one of the best love gifts any mother can give to her child. The bonding experience is also my favorite part. No one can ever take that away from us. It's a lifelong memory we will share.
Anything else you would like to add? Breastfeeding was not always easy, but keeping the ultimate goal in mind to give my baby a healthy future reminded me to never give up.
Thanks Anita! Don't forget that you can call us at WIC with any breastfeeding question, encouragement, or help you might need! We are here for you!